Reset 2022 | A Three-Part Outlook Series
13/09/2022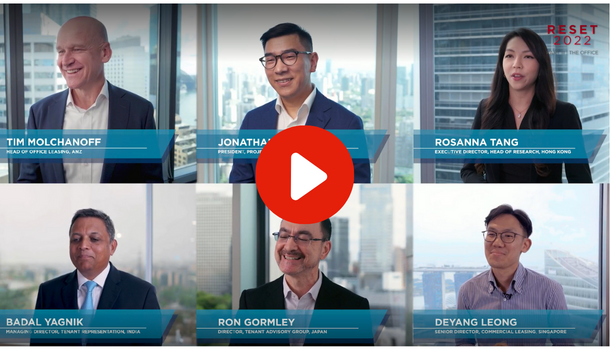 REGIONAL OFFICE MARKET SNAPSHOT VIDEO: WATCH HERE
Reset 2022 | Part 3: The Office "Navigating the New Normal"
Pandemic lockdowns forced millions of people to work from home and accelerated the take-up of hybrid working models. Now, occupiers are caught at a crossroads as they try to resume a business-as-usual approach – while also adapting to accommodate the changed lives and attitudes of their employees.
In the final instalment of our Reset 2022 series, we shine a light on some of the biggest issues occupiers are facing as they navigate this new normal.
WATCH VIDEO

External Link
Contact
Head of International Research, Global Think Tank • Brisbane
Related Insights
Research • Investment / Capital Markets
2022 - 2023 ASIA REIT Market Insight
We investigate the growing Real Estate Investment Trust market in Asia, examining the primary drivers and state of play in key markets including Japan, Singapore, Hong Kong SAR, mainland China and India.
Catherine Chen • 07/08/2023
Research • Workplace
Asia Pacific Office of the Future Revisited
Our latest insight establishes three realities through the Asia Pacific lens: office space is still in demand, hybrid is here to stay, and the role of the office has changed. We explore the nuances, challenges and opportunities in the region.
15/06/2022
Research • Investment / Capital Markets
Our paper focuses on key drivers of recovery, to ensure you CATCH the potential and opportunities of '22.
Dominic Brown • 02/12/2021